Drawing With Hands
posted by
Virmir
on
November 19th, 2016
for
Comic 395
This is the last page (395) I colored and shaded with my mouth. From here on I've been alternating between my right hand for line work and my left hand for everything else.

It's been a strange year.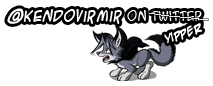 @TheLupineOne Hate it when that happens.
[In reply to...]
–
Feb 18, 8:17AM
Twitter RSS
|
Twitter Page
Latest Virmir Art
Also see...

1556384